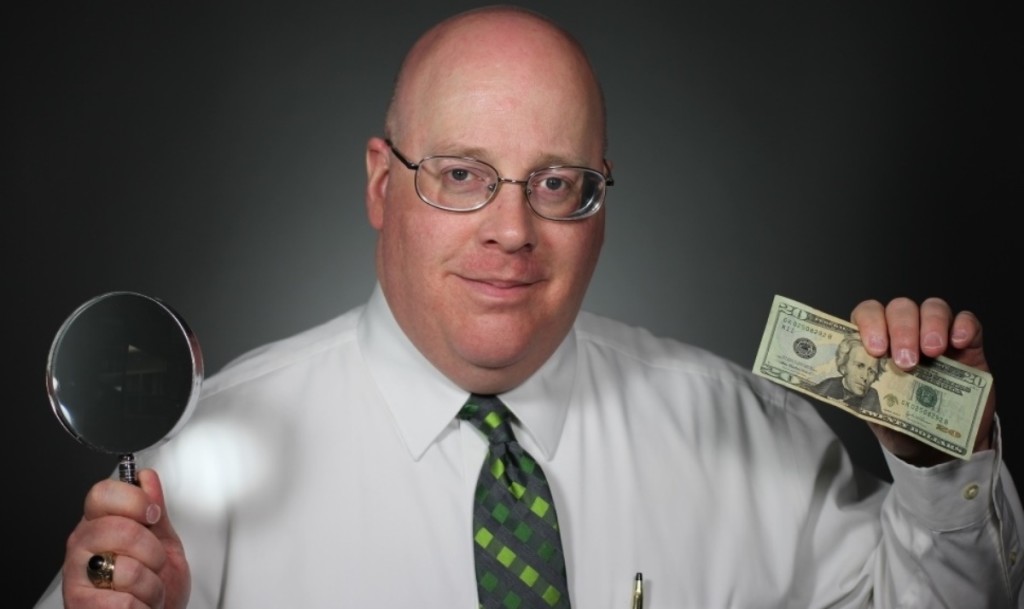 I've handled more counterfeits than most counterfeiters. Probably more than a lot of Secret Service agents. I can spot a bogus Benjamin from across a crowded room. If the wind is right, I can even smell them. On quiet nights, they softly call my name. Can you say the same?
Cash still plays a big part in our everyday lives, even in an increasingly digital world. The average person handles currency every single day. So, how do you know whether that twenty dollar bill in your hand was born at the U.S. Bureau of Engraving and Printing, or is an evil twin cloned in a laser jet printer?
Telling the difference is not rocket science. Many counterfeiters have been able to recreate one or two security features with varying degrees of believability; but, no one has yet been able to flawlessly create an undetectable counterfeit. They always get something wrong.
"Look at me now, I'm getting paper"
The paper used for currency is a specific blend of rag and wood pulp. The rag content is why old currency tends to look and feel more like a well-worn t-shirt than old paper.
To analyze a suspected counterfeit's paper, fold the bill into a sharp crease. If the bill feels too much like a page from a Big Chief tablet, or if the paper "breaks" at the crease revealing rough paper underneath, you might want to ask for a different method of payment. Also, look for tiny red and blue threads woven into the paper of a real bill. These are actual threads and can be felt when you scratch a fingernail across the thread.
Become an Ink Master. No, I'm not talking about tattoos.
The ink on a genuine bill is literally poured onto the paper thickly enough to withstand years of being worn down. Genuine ink tends to rub off. This can most easily be seen by scrubbing a bill against white paper. Usually, the ink used on counterfeits is water-soluble and won't rub off, but will often streak or run when it gets wet—kind of like my Great Aunt Wilma Jean's makeup.
The peculiar green ink used for the Treasury Seal and the serial numbers is so permanent it can't fade or be removed. The larger denominations use "color-shifting" ink for one or two features. For instance, the "20" located in the bottom right front corner should change from copper to green, depending on how the light strikes it.
We've come a long way from Gutenberg's printing press
The printing quality on genuine bills is amazing. Even without a magnifying glass, the individual lines in the designs can be distinguished from each other. A counterfeit will not have this level of detail – the details all mush together into a muddy blob and you won't be able to see the tiny spaces between the fine lines. This is especially obvious in places like the trees surrounding buildings on the back of the bill, or in a President's hair.
Additional resources for spotting counterfeits
If you're in training to become a banker, a Secret Service agent, or if just don't want to get taken, you can find more information on spotting counterfeits at www.moneyfactory.gov.
About the Author:
Chris Watkins is the director of security at Central National Bank. He is quite the history buff, enjoys reading and collecting books, and can tell you just about anything you'd ever want to know regarding vintage airplanes (1910's to 1940's).